Designing kitchens for people with specific needs requires focusing the design around the customers needs instead of filling a space. This thought process and focus around designing means each action will be thought about, as well as how we could make it easier for the customer using their kitchen. Every kitchen and home are different in their own way, our designers may ask you surprising questions such regarding wheelchair heights and positions around the kitchen all to ensure this kitchen suits our customer.







Does this kitchen have wheelchair users or will there be people with varying heights using the kitchen? If a person does not need to have varying heights, then our designers will measure the kitchen to fit around specifically for our customers needs. Then a set of adjustable feet are added under the unit so if there is any change in mobility or any other reason the height can be reset to their needed height.If there is varying heights in your home, we are able to install a rise and fall unit for the sink and hobs, in order to be able to move and use your kitchen fluently.







When designing an accessible kitchen it is important that ease of access is a key focus. Ease of access is regarding how our customer is able to manoeuvre around their kitchen with fluency. Having the oven, fridge and sink in a linear position mean our customer is able to get from one to the other with ease being to be able to move hot/heavy food with worktop being underneath the whole time. This alignment also means that the customer is able to use all three work stations easily as they are close together with space to be able to prep or place items without having to readjust yourself.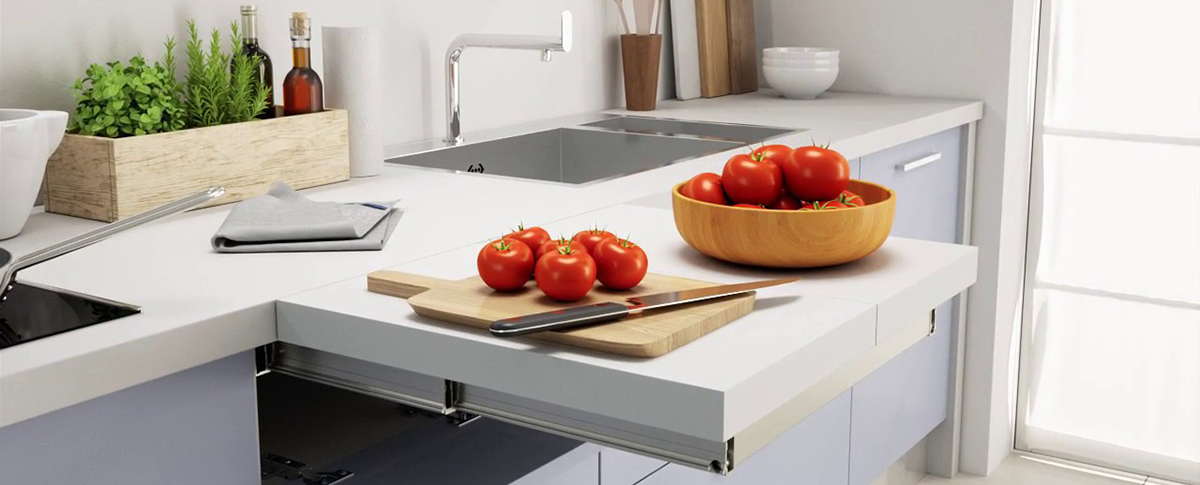 The kitchen is one of the most hazardous rooms in your home, with sharp utensils and hot stoves, but accidents do happen and Danmar will do everything we can to ensure it isn't the kitchen's fault. Minimizing lifting heavy items is key when designing an accessible kitchen, this is important to reduce the change of dropping something and causing injury to our customer as well as accidents involving heating and electricity. Resting trays are added underneath the oven so that when hot/heavy food is taken out of the oven our customer can rest their hot/heavy item straight after being taken out of the oven in order to continue with prepping their meal. Also incase there is a water leak we install a Sure Stop switch as this allows the customer to switch off their water completely preventing further damage that could be done by water.







When it comes to the location of appliances, then most kitchens appliances are unaccessible to those with a disability. The oven may be too high or too low for our customers to freely use them without it being awkward or the hob contols are near the back and are out of reach, these are important to think about because any of these makes the kitchen inaccessible for our user. The appliances itself needs careful consideration, as we don't recommend gas hobs in case of catching a sleeve on the flame, so induction hobs will be recommended. The hob should be horizontally aligned as this minimizes the chance of leaning over and catching yourself on the hot hob. The oven will be side opening, as this allows the user to get closer into their oven to get a steady grip.







With regards to the plan of cabinetry in our customers new kitchen, all aspects from floor to ceiling will be tailored around their needs. If standard base units are too tall we have units that cater an array of sizes as well as matching with the wall units all to ensure the new kitchen is suited for the user. The storage that is within the cupboards are just as in important, for the wall units drop down storage will be added so the whole storage drops to about eye line making it all easy to get to. The hinges that are used are wider opening angles as this allows more space for a wheelchair users to get around their cupboards with ease also creating more space in order to move around the room freely.